This summer, more than 90 staff members across the Brigham family participated in the Plant Powered 30 Challenge. The contest was designed to raise awareness of the impact food selection has on the environment and challenged members to eat at least one plant-forward meal per day.
"The environmental footprint of a typical meat-centric meal is quite staggering," says Gianina Padula, Sustainability Support Manager for Sodexo at Mass General Brigham. "During the Plant-Powered 30 Challenge, participants learned how they can make a big impact through small changes in their own food choices."
With help from Padula and intern Savanna Hernandez, the Food Services team at Brigham and Women's Faulkner Hospital increased and promoted plant-based offerings in the Cafeteria and encouraged employees to make more sustainable eating choices during the challenge.
At the end of the month-long challenge, a total of six winners were selected between BWFH and BWH.
Congratulations to our winners!
Tier 1: 25 to 30 meals
Dana Fryer, BWH, winner of CorePower Yoga classes
Robin McFarland, BWFH, winner of a pair of running/walking sneakers
Tier 2: 20 to 24 meals
Keith Spinali, BWH, winner of an air fryer
Alison Merritt, BWH, winner of an air fryer
Tier 3: 10 to 19 meals
Amber Martel, BWH, winner of a $50 gift card to the Garden Café
Savanna Hernandez, BWFH, winner of a Yeti Water Bottle
For winner Robin McFarland, a dietitian at BWFH, the challenge helped her put into practice the advice she gives her patients and achieve her own personal goals. "It helped me stretch towards my personal health goal of consuming a more plant-forward diet," she says. "During the challenge, the Food Services team provided great meal and soup options in the Cafeteria that I really enjoyed. Vegetables, fruits, lentils and whole grains are all powerfully packed with many nutrients important for wellness. I will be looking forward to more plant-based menu options in the days ahead."
"We hope that the Plant Powered 30 Challenge serves as a reminder of BWFH's ongoing commitment to reducing our carbon footprint," says Padula. "In addition to activities like this, BWFH is currently one of just 23 hospitals in the United States to have signed the Cool Food Pledge, which aims to reduce food service greenhouse gas emissions by 25 percent by 2030. Our goal is to do as much as we can and still provide our staff with the meals they love."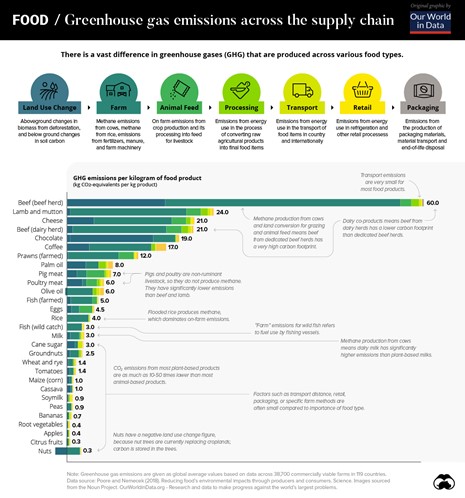 The above graph outlines the impact meat-centric meals can have on the environment.
Published 10/4/22