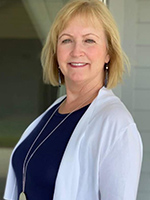 AGGIE CASEY, MS, RN
Nurse Manager, Cardiac Rehabilitation
Aggie Casey is a Clinical Nurse Specialist who has over 30 years of experience in acute cardiac care, cardiac rehabilitation and health promotion. She received a Bachelor of Science in Nursing from Northeastern University and a Master of Science in Nursing at the University of Massachusetts Medical Center in Worcester. She worked as Director of Cardiac Rehabilitation at the Beth Israel Deaconess Medical Center and Massachusetts General Hospital before coming to work at Brigham and Women's Faulkner Hospital.
Casey has co-authored two books: The Harvard Medical School Guide to Lowering Your Blood Pressure and Mind Your Heart: A Mind/Body Approach to Stress Management, Exercise and Nutrition for Heart Health. She also co-authored A Harvard Medical School Special Health Report: Stress Management, Approaches for Preventing and Reducing Stress. In addition, she has published several articles in peer reviewed journals.
Casey has trained numerous health professionals from around the country in mind body medicine and heart health, and has presented at national and regional conferences. Her specialty areas include health promotion, mind/body medicine and heart health.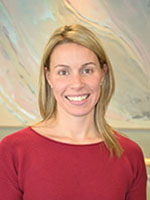 LISA PORAZZO, RN, BSN
Nurse, Cardiac Rehabilitation
Lisa Porazzo is a Registered Nurse who has worked with cardiac patients for over a decade. She received a Bachelor of Science in Rehabilitation and Disability Studies from Springfield College in May 2000 and a second Bachelor of Science in Nursing at the University of Lowell in May 2003. While at Springfield College, Porazzo completed an internship at Baystate Medical Center in Cardiac Rehabilitation. Here she educated patients about the management of heart disease, risk factor/lifestyle modification, improved functional capacity and increased self-esteem/confidence. This internship experience prompted Porazzo to pursue a career in Cardiac Nursing.
She began her professional career as a nurse on the Cardiac Interventional Unit (Ellison 11) at Massachusetts General Hospital. There she delivered comprehensive care to patients with acute coronary syndromes, arrhythmias and congestive heart failure. She joined the Brigham and Women's Faulkner Hospital Cardiac Rehabilitation Program in 2012 and enjoys applying her inpatient acute care skills to the outpatient setting.

ALLIE LANG, RDN, LDN
Outpatient and Community Liaison Dietitian
Allie Lang is the dietitian for the Cardiac and Pulmonary Rehabilitation Programs. She is also the Community Liaison Dietitian in Brigham and Women's Faulkner Hospital's Department of Community Health and Wellness, teaching on various nutrition topics at local senior centers, schools, health fairs and YMCAs. Additionally, she conducts supermarket tours and healthy cooking classes. She received her Bachelor's degree in Food and Nutrition from Framingham State University and has worked in clinical, acute care, rehabilitation and community nutrition settings. Special areas of interest include diabetes, kidney disease, cardiovascular disease and weight management. Lang loves finding new and innovative ways to improve nutritional outcomes, such as using apps and social media to aid in community outreach. Her passion lies in combining science-based nutrition therapies with a collaborative and motivational counseling environment, from the outpatient setting to the client's own home. She is a member of the Academy of Nutrition and Dietetics.
Heather Rotti
Exercise Specialist
Heather Rotti is the Exercise Specialist for the Cardiac Rehabilitation Program. She received a Bachelor of Science in Exercise and Sports Science with a minor in Biology from Fitchburg State University in December 2016. During her studies at Fitchburg State, Heather was involved in Dance Club and Treasurer of the Exercise and Sports Science Club, where she organized multiple 5K races and promoted hands only CPR for the American Heart Association at school events. She became first interested in working with cardiac patients when she completed an internship at Emerson Hospital Cardiac Rehabilitation in 2016, where she led Phase II and Maintenance cardiac rehabilitation classes.
She enjoys helping patients find what types of exercise will best suit their interests and lifestyle for a healthier, active life that is realistic and maintainable. This includes educating patients on the various types of exercise, what personal barriers they may have and how they can overcome those for a greater well-being following a cardiac event. She is currently applying to medical school in hopes to continue working closely with patients to achieve overall health and wellness through preventative medicine.