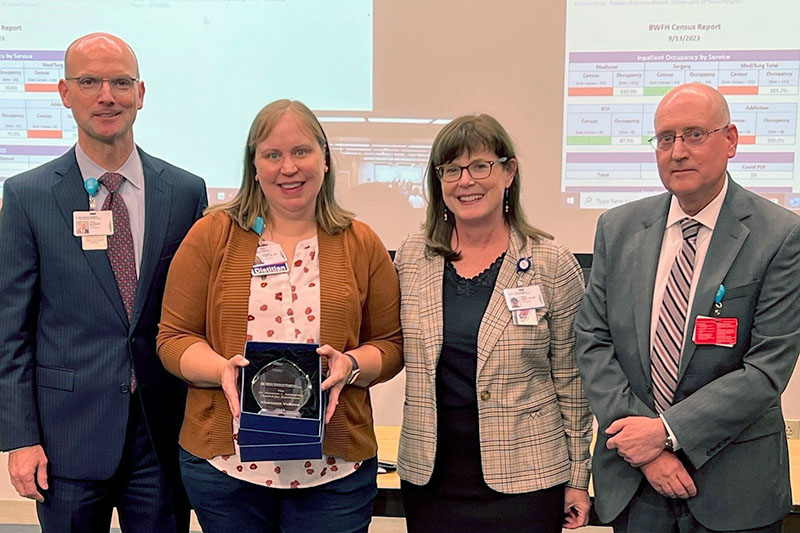 From Left: Former BWFH President David McCready, Clinical Nutrition Manager Shannon Vukosa MS, RD, LDN, Area General Manager for Food and Nutrition for the Brigham family Susan Langill, RD, LDN, and Executive Director of Facilities and Support Services Edward Pitts, CHFM, CLSS-HC
The Dr. Norman L. Sadowsky Award for Excellence goes to an individual who best exemplifies the qualities Dr. Sadowsky himself demonstrated throughout his illustrious career. This year's recipient, announced recently during Daily Safety Huddle, is Clinical Nutrition Manager Shannon Vukosa, MS, RD, LDN.
Dr. Sadowsky made extraordinary contributions to Brigham and Women's Faulkner Hospital's patients and staff during his more than 40 years of leadership in radiology. As a radiologist, colleague, friend, teacher, researcher and administrator, he always brought the highest levels of caring, compassion, creativity and service excellence to his work.
Much like Dr. Sadowsky, Vukosa is dedicated to our patients and her colleagues. In her nomination letter, Senior Dietitian and Nutrition Clinic Coordinator Stefanie O'Connor, MS, RD, LDN, wrote:
Shannon has been my supervisor for the last five years. She has helped me grow as a dietitian and also a person. To me, she deserves the award because she simultaneously thinks of the needs of all patients as well as her staff. She often has to cover vacancies in her department, at the last moment, and does so with a smile on her face because she has compassion for staff needs and because she can hold constant that, at the end of the day, her service is for patient care. Shannon emanates patient care and makes it clear from the beginning of working for her and for BWFH that she values the patients and their experience first. Shannon's problem-solving is impeccable. I have called her for support for everything from troubleshooting with laptop challenges to managing difficult personalities. She thinks quite quickly and creatively on her feet and often continues to send additional strategies or options for solutions after the conversation has ended. This is just one way she shows intense dedication to her job and her staff.
For Vukosa, receiving the Sadowsky Award for Excellence is very meaningful. "Dr. Sadowsky has left such a legacy of excellence here at BWFH, so I am very honored to have been nominated by a colleague and to receive this award," she says.
Published 9/14/23