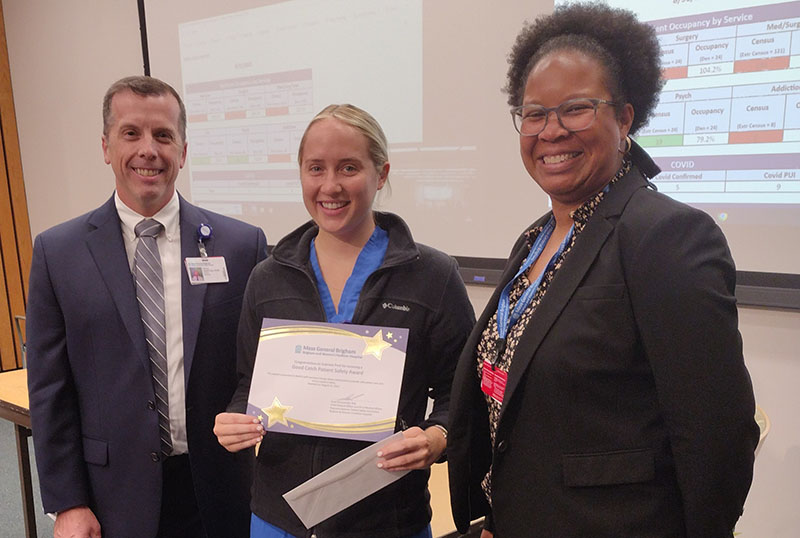 Sonographer Gabriele Preli (center) with Director of Radiology Brian McIntosh and Director of Infection Control, Clinical Compliance and Patient Safety Andrea Shellman, MHSA, CPPS.
At Brigham and Women's Faulkner Hospital, delivering safe, high-quality care is at the center of all we do for our patients and their families. For staff members who exhibit exceptional care as it relates to patient safety, the hospital recognizes them with a Patient Safety Award. Sonographer Gabriele Preli was recently honored with a Patient Safety Award.
Preli was selected for the Patient Safety Award when she discovered an error in a Radiology report. The patient had an ultrasound as a result of swelling in the leg. Evidence suggestive of deep vein thrombosis (DVT) were described in the body of the report, but was ultimately misstated as "no evidence of DVT." Upon her routine follow-up, Preli noticed the discrepancy in the report. The patient's primary care provider was notified and the patient was able to receive proper treatment.
Upon receiving her Patient Safety Award, Preli said, "Patient safety has always been my top priority and I am so grateful to receive this award and to be part of a hospital that also shares the same standards of patient safety as I do."
Patient Safety Awards are given by BWFH's Patient Safety Committee to recognize employees' attentiveness and dedication to patient safety. In our safety reporting system, RLDatix, managers can recommend a reporter receive a Patient Safety Award. The Patient Safety Committee then reviews the nominees and votes to select an event that exemplifies patient safety in action.
Published 9/1/23