September may be Sepsis Awareness Month, but at Brigham and Women's Faulkner Hospital, the prevention, diagnosis and treatment of sepsis is always front of mind. So much so, the hospital has a multidisciplinary team of care givers—including nurse and physician leadership from the Emergency Department, medical/surgical units and the ICU; Nursing Professional Development Managers; the Pharmacy; Nursing Informatics; Laboratory leadership; and Clinical Documentation Improvement—who meet regularly to track quality measures related to sepsis.
Sepsis is a medical emergency caused by the body's extreme response to an infection. Sepsis occurs when an infection, such as pneumonia, causes an overwhelming response by the immune system resulting in organ dysfunction. The most common symptoms of sepsis are low blood pressure, elevated respiratory rate, altered mental status, shock index greater than 1 (in which the HR is >SBP), decreased urine output, elevated creatinine, elevated bilirubin and decreased platelet count. Patients who look acutely ill, have a possible infection, have risk factors such as being older than 65 and have other comorbidities most likely have sepsis.
It is estimated that one in three patients who die in the hospital has sepsis.*
"At Brigham and Women's Faulkner Hospital, the Sepsis Workgroup tracks two sets of quality measures related to sepsis—the Mass General Brigham Internal Performance Framework (IPF) and the Centers for Medicare & Medicaid Services (CMS) SEP-1 measure, which is publicly reported, in order to continuously improve the quality of our sepsis care," says Quality Improvement Analyst Katy O'Loughlin, MPH. "Both measures include several time-based elements with best practices for sepsis care."
According to O'Loughlin, over the last year and a half, BWFH has made great strides in performance related to both quality measures thanks to the commitment of the workgroup and their willingness to engage with improvement projects, as well as the dedicated work of the care teams on the ground who implement new initiatives and reinforce best practices.
"Focusing on our CMS SEP-1 performance, you can see from the chart below that the workgroup has played a major role in our improvement. We had a performance rate of 37 percent in 2019-2020 when the workgroup was on hiatus due to the COVID-19 pandemic. The workgroup reorganized in 2021 and we have had a performance rate of 52 percent since then—a 15 percent increase!" says O'Loughlin.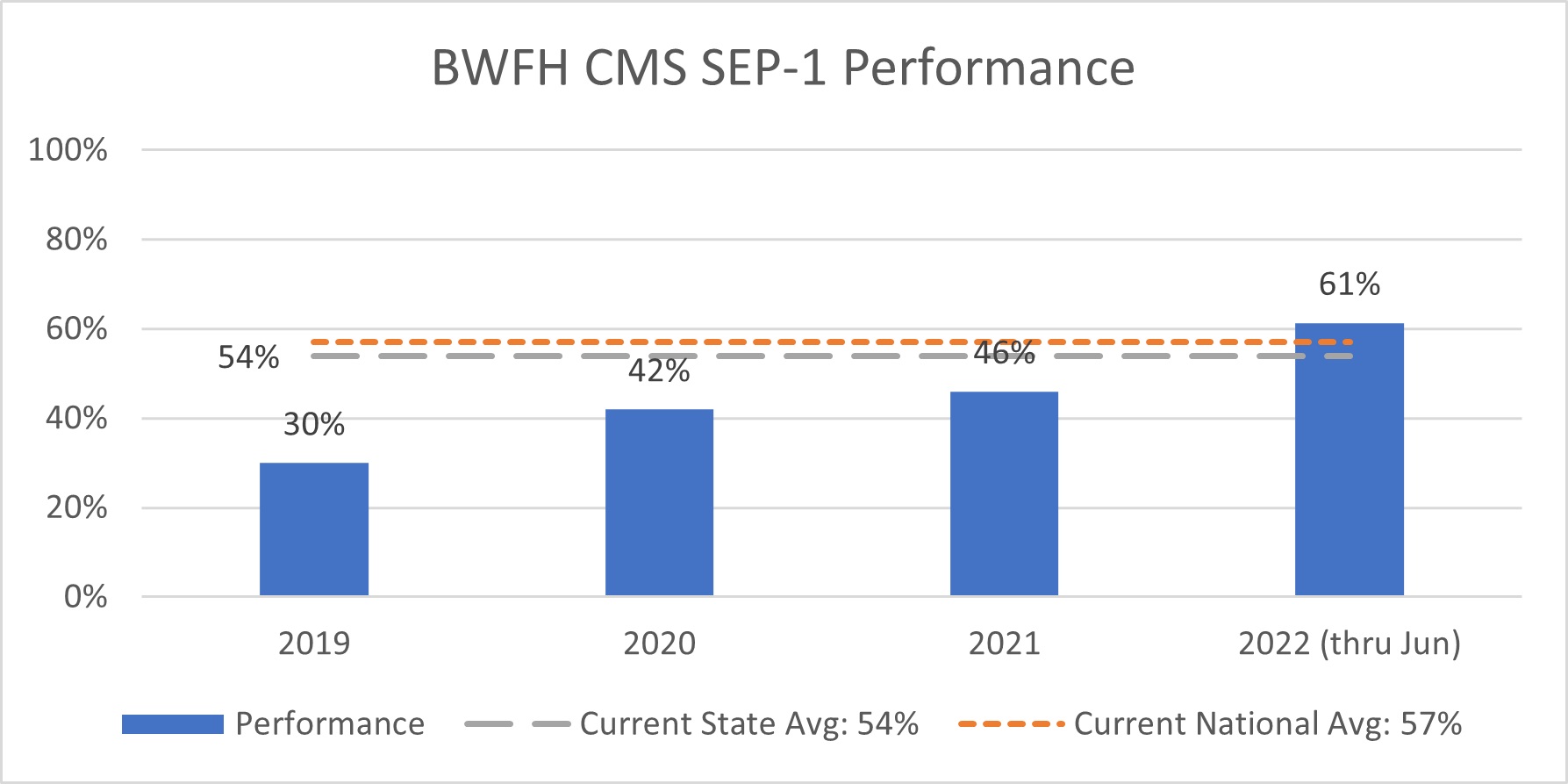 Currently, the Sepsis Workgroup is focused on improving crystalloid fluids administration, a sepsis element of care where CMS requires 30mL/kg when a patient becomes hypotensive or is in septic shock. The group has developed a smart phrase within the electronic medical record to ease provider burden of meeting documentation requirements when it is clinically determined the patient should be given less than the required number of fluids due to concerns for volume overload. This smart phrase has now been adopted and used by hospitals across Mass General Brigham.
They have also had the chance to collaborate with the Clinical Documentation Improvement team, who reviews cases in real-time and connects with providers to inform them about the opportunity to use the smart phrase to meet CMS SEP-1 requirements. "It is still too early to analyze the data, but we have heard from providers that this has been a helpful reminder, and it has also led to greater uptake of the smart phrase from a diverse mix of providers," says O'Loughlin.
The workgroup has also been collaborating with the Pharmacy team to identify sepsis patients more quickly and initiate appropriate antibiotics earlier into a patient's sepsis treatment. The pharmacists have been able to provide general support to care teams, reminding them of the resources available in the electronic medical record to support adherence to best practices.
Looking ahead, the workgroup hopes to continue to build on the progress made in improving care for sepsis patients. Using a data-driven strategy, the workgroup hopes to tackle new areas for improvement through continuous education from our sepsis leaders, more collaboration between staff and updates in the electronic medical record to ease the clinical burden so that providers can spend their time with patients.
Want to learn more about how care givers at BWFH identify and treat sepsis using the mnemonic CALL-IT? Read more here.
Are you a staff member interested in sepsis care and/or have ideas on how to improve sepsis performance in your unit? Do you have questions about sepsis quality measures? The Sepsis Workgroup wants to hear from you! Get in touch by emailing Katy O'Loughlin.
For even more information and resources, staff are invited to visit BWFHconnect.
*According to the Centers for Disease Control and Prevention.
Published 8/26/22