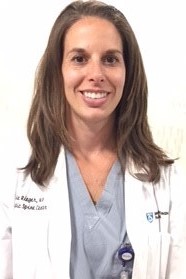 Laurie Rieger, MSN, RN, AGPCNP-BC, has been named Chief APP for Orthopaedics at Brigham and Women's Faulkner Hospital.
Rieger began her nursing career at Boston Medical Center before becoming a surgical nurse at Newton-Wellesley Hospital. At NWH she held her first leadership position as an assistant nurse manager. Later, after earning her MSN from UMass Boston, she joined the Orthopaedic team at BWFH. She was one of the early leaders of the BWFH APP Council and has proven herself to be a strong communicator with innovative ideas and sound judgment.
In her new role, Rieger will lead, supervise and coordinate the daily activities of the inpatient orthopaedic APP team. In conjunction with Brandon Earp, MD, Chief of Orthopedic Surgery, and administrative leadership, she will help implement goals at both the BWFH level and the Department of Orthopaedic Surgery level. Clinically, she will be responsible for assisting attending physicians in the medical management of patients assigned to the service.
"I am grateful for the opportunity to lead the wonderful BWFH Orthopaedic APP team!" she says of this new challenge. "I look forward to engaging in collaborative endeavors to improve orthopaedic standards of care and reach hospital-wide goals. I support the growth of APPs as Mass General Brigham integration further develops."
Posted 5/18/23