Last year, the Radiology Department at Brigham and Women's Faulkner Hospital launched a patient experience-based competition among its staff called "CSI: Radiology." "CSI" stands for "Continuous Service Improvement" and seeks to improve the patient experience by identifying ways to make service delivery safer, more effective, more patient-centered, timelier and more equitable. Recently, the department announced its Season 1 winner: CT!
"To determine our winner, we tracked data from NRC Health," says Brian McIntosh, BS, RT (R), CRA, Director of Radiology. "NRC is a patient survey tool used by Mass General Brigham to measure the patient experience in our facilities. Patients receive a survey one to two days after their appointment and their responses can be quantified and benchmarked, allowing for the opportunity to identify areas of improvement. Each modality was tasked with improving upon two patient survey questions, as well as their 'Net-Promoter Score' or 'NPS,' which is an overall metric that represents how likely a patient is to recommend BWFH to their family and friends for care."
McIntosh says that despite ongoing staffing challenges the results of the competition were remarkable. "Each modality was able improve their scores for each selected question when compared to their 2021 baseline, with similar results for their respective NPS scores," he says.
In the end, the CT team stood out above the rest and was named the Season 1 winner. The CT Department, led by Supervisor Raghda Tabbara, BS, MM, RT (R) (CT), was able to improve the question "Patient told when to expect results" by a staggering 33 percent or 17.8 points when compared to their 2021 baseline score. They also improved upon their ability to inform patients about delays by 5.5 points, and their overall NPS score by 3.2 points. "I am so impressed with how well this team performed. They were all invested in improving the patient experience, shared a common vision and employed simple but effective strategies that worked," says McIntosh. "But most importantly, I am happy to see each and every area within Radiology engaged in this important work and making strides towards improving our patients' experience within our department."
CSI Season 2 has already begun and department leaders say they are excited to see how each modality can build on their Season 1 work and continue to improve the patient experience.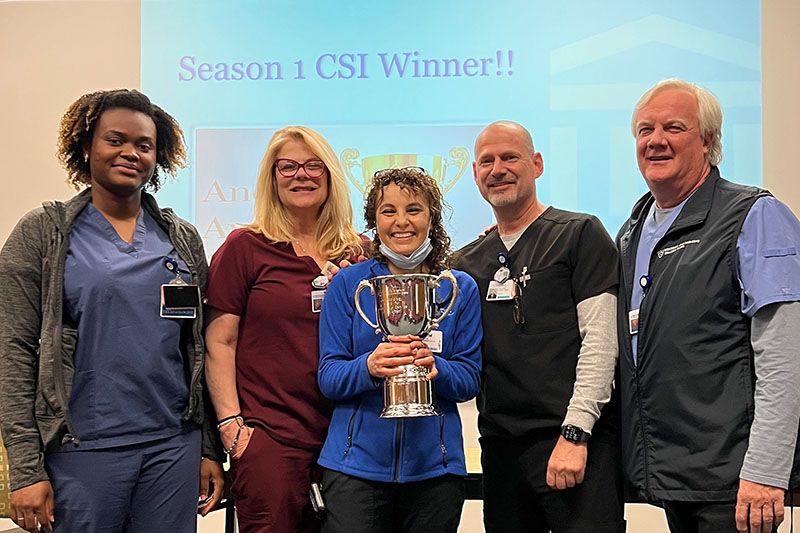 Members of the CT team receive their award; from left: Yviolene Pierre, RT (R) (CT), Taryn Dipesa, (RT) (CT) (M), Raghda Tabbara, BS, MM, RT (R) (CT), Khatchig Chirinian, RT (R) (CT), Richard Schofield, RT (R) (CT)
Published 4/21/23