QUEST = Quality, Equity, Safety and Transparency
The QUEST Award is given to inpatient units, including the Emergency Department, at both Brigham and Women's Faulkner Hospital and Brigham and Women's Hospital in recognition of outstanding efforts in quality of care, patient experience and harm prevention. At a recent Safety Huddle, several units from BWFH were recognized with QUEST Awards by the Patient Safety Committee.
"Four BWFH units applied for the award and were selected based on their quality, safety and patient experience improvement work," says Andrea Shellman, MHSA, CPPS, Director of Infection Control, Clinical Compliance and Patient Safety. "While they were previously notified of their QUEST Awards, it was important for us to invite representatives from each of those units to today's Safety Huddle in order to formally recognize their efforts."
The units who received QUEST Awards are 6 North, 7 North, the Emergency Department and 6 South.
6 North
6 North was recognized for its work to reduce catheter-associated urinary tract infections (CAUTI) and
central line-associated blood stream infection (CLABSI). Noting that there was varying practice around caring for central lines and urinary catheters on 6 North, the Unit Based Council recommended formally rounding on patients with central lines once a week. Formal C-Care (c = catheter and central line) rounds are performed once every four weeks on all med-surg units, but 6 North decided to expand the concept of monthly C-Care rounds to weekly quality rounds. This involves collaborating with the providers and engaging both the nurses and the PCAs caring for patients with indwelling catheters and central lines in order to reduce CLABSIs and CAUTIs.
6 South
6 South was recognized for its work to reduce interruptions to their patients' sleep. On 6 South, patients are typically woken up for vital signs overnight every four hours. Noting that this can have negative outcomes such as delirium, aggression and dissatisfaction with hospitalization, the team decided to decrease vital sign checks in patients who are medically appropriate between the hours of 11 pm and 6 am. In addition to reducing the number of patients whose sleep was disrupted, these efforts helped to raise awareness of the importance of sleep promotion on the unit.
7 North
7 North was recognized for its work to reduce falls and hospital-acquired pressure injury (HAPI). Nurses and clinicians noted that patients were not consistently getting out of bed daily and ambulating. To address the issue, the unit introduced formal rounding on two high risk patients for immobility twice a week. The goal is for patients to have increased mobility which ultimately helps decrease HAPIs and falls.
Emergency Department
The Emergency Department was recognized for its efforts to reduce wait times. It was noted that in the first half of FY22 total ED volume was higher than the same period in FY21. The team decided to focus their efforts on reducing wait times in the waiting room during the 8 am to 12 noon time frame. The hope was this would decrease average length of stay in the Emergency Department, in turn decreasing the workload for the evening clinical team, increasing capacity to see more patients and decreasing the rate of patients who leave without being seen. To achieve this goal, Emergency Department attendings are encouraged to assign themselves to patients as early as possible during the 8 am to 12 noon time frame before the afternoon volume increases, even if a nurse has not already assigned them. All Emergency Department staff are encouraged to pull patients out of the waiting room as quick as possible and increase utilization of Vocera for improved communication.* Staff is also encouraged to increase the use of the Results Pending area and hallways in order to see more patients.
*Departments across the Brigham family will soon transition to the use of Voalte.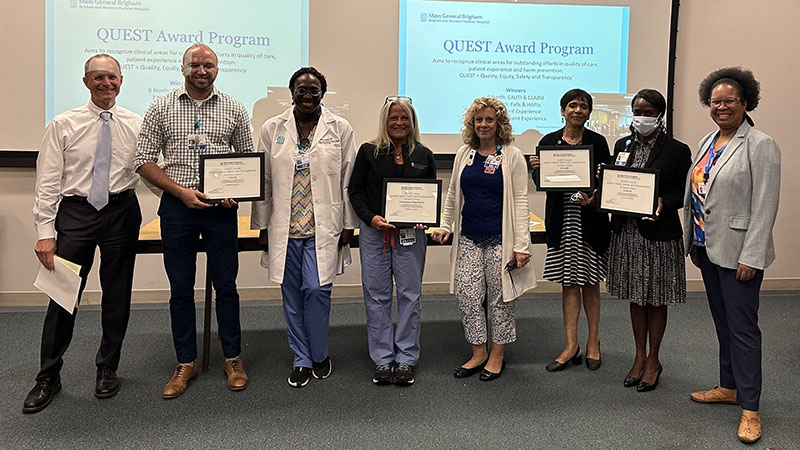 From Left: Scott Schissel, MD, PhD, Chief Medical Officer and Vice President of Medical Affairs, Michael Sanderson, MBA, BSN, RN, Nurse Director for 7 North and the Float Pool, Vonette Anglin, MSN, RN, ANP-BC, 7 North leadership, Robin Powell, MSN, RN, CEN, Nurse Director for the Emergency Department, Beth Waters, MSN, RN, CPEN, Nursing Professional Development Manager for the Emergency Department and Nursing Supervisors, Allison Bernard, PhD, DNP, RN, Nurse Director for 6 North, Suzelle Saint-Eloi, MS, RN, Nurse Director for 6 North, and Andrea Shellman, MHSA, CPPS, Director of Infection Control, Clinical Compliance and Patient Safety
Published 8/25/23