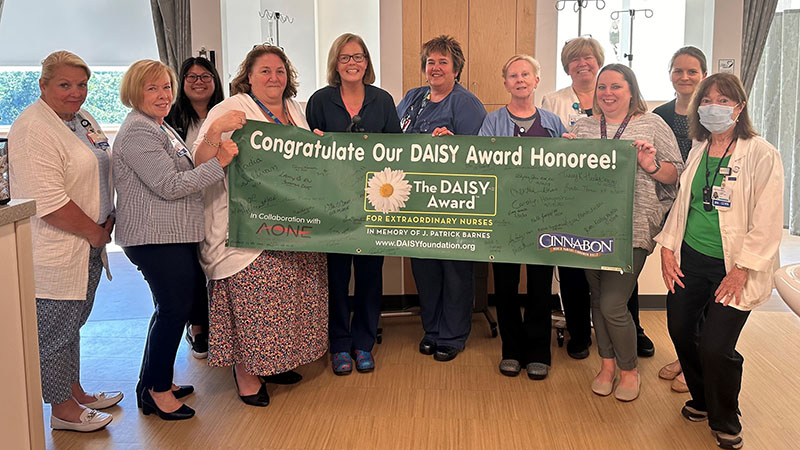 Brigham and Women's Faulkner Hospital's Department of Nursing recently honored Outpatient Infusion Center Clinical Leader Virginia Grace, BSN, RN, with a DAISY Award.
Grace was nominated by her colleague Virginia Ryan, MSN, RN. In her nomination letter, Ryan wrote:
In all the years we have worked together, I have noticed that in every patient experience she has demonstrated her true compassion and kindness. She connects with each one in a special way that makes them both start laughing before the interaction is over. She says hello and introduces herself followed by a little giggle that puts all her patients at ease. As an on-looker you can see the genuine respect the patients have for her whether she is caring for them that day or not. If a patient says they have terrible veins, Ginny will say that she loves a challenge and grabs them a glass of water to hydrate. She uses every opportunity as a teaching moment with her patients. She is very knowledgeable about all the medications that we administer and is a resource for all who work in the Outpatient Infusion Center. I have worked with her for 37 years and she is definitely the nurse that I would want to care for my loved ones if they were in need.

Ginny is always the first to volunteer and steps up whenever anyone needs some help. She's the first one called to the room if someone has difficulty placing an IV! And all the patients know it! If she hears a word or two from a song, she will start singing it. This will get others, including the patients, to start singing along. Just so you know, I do not think there is a song out there that she does not know!
Grace was presented with her DAISY Award by members of nursing leadership, the Nursing Professional Recognition and Advancement Committee and her supportive co-workers.
She says it is an honor to be a DAISY Award recipient. "I have always strived to put my patients at ease and make them feel well cared for. I have been fortunate to have spent my entire nursing career at BWFH working with so many wonderful colleagues," she says.
The DAISY Award, established by the DAISY Foundation, is named in memory of J. Patrick Barnes who died at the age of 33 from Idiopathic Thrombocytopenic Purpura (ITP), an auto-immune disease. The Barnes Family was inspired by the care that Patrick received and established this unique program to recognize and thank the nurses nationwide who make a profound difference in the lives of their patients and families.
To learn more about the DAISY Foundation, click here.
BWFH DAISY nurses consistently demonstrate excellence through their clinical expertise and extraordinarily compassionate care. They are recognized as outstanding role models in our nursing community and make a profound difference in the lives of their patients and their family members. Patients, visitors, nurses, physicians and employees may nominate a deserving nurse by completing a nomination online.
Published 8/15/23