Brigham and Women's Faulkner Hospital's APP in Excellence Award was established to recognize and celebrate the important contributions Advanced Practice Providers (APPs) make to the hospital. APPs include nurse practitioners, physician assistants and certified nurse anesthetists. At a recent celebration, the fourth annual APP in Excellence Award was given to Chief Cardiology APP Jessica Lara, MSN, RN, FNP-BC.
Lara was nominated for the award by Associate Chief of Medicine Erin O'Fallon, MD, MPH, for her excellence in multiple domains, including education, innovation and quality improvement, clinical expertise and teamwork. In her nomination letter, Dr. O'Fallon elaborated on each of these areas:
Education: In both formal and informal settings Jess has become a valued member of clinical education for a broad range of cardiology topics. Specific examples include her work supporting the launch of antiarrhythmic loading admissions at BWFH, bedside ultrasound volume assessment training, real-time education around ECG and telemetry interpretation. Jess is a thoughtful and knowledgeable educator both in group sessions and one on one, responsive to her audience and ready to follow up when any topic isn't immediately within her knowledge base.
Innovation and Quality Improvement: Jess's involvement in a range of quality improvement projects and innovation work has been valuable and impactful. Examples include CPIP work improving outpatient follow up for CHF patients and addressing racial disparities in quality of care for CHF patients, and as a lead in ongoing quality improvement work toward improving the length of stay and quality of care for CHF patients. In addition to this, Jess helped to lead the launch of antiarrhythmic medication loading for patients at BWFH, and has been essential for the rapid growth of the APP-led inpatient cardiology consult service and its success in both the volume and quality of care provided.
Clinical Expertise: We are truly fortunate to have Jess in her current role given her knowledge base and skill set. Building upon her excellent foundation in general adult medicine, she has built a robust skill set in cardiology and inpatient cardiac management. Jess has helped to build the APP consult team as both a lead and mentor to her APP colleagues and offers excellent guidance to her clinical colleagues hospital wide in her cardiology consultant role.
Teamwork: It is essential to highlight Jess's investment in teamwork and collegial approach to her work. It is always a pleasure to work with Jess, from quality improvement, clinical care and real-time problem solving, Jess is collaborative and respectful. She is enthusiastic and invested in working with multidisciplinary colleagues, and understands how to distribute work effectively to accomplish shared goals. She is also a generous colleague who will go above and beyond as needed to take on extra work or support other team members as needed.
During BWFH's Annual APP Celebration, Chief Advanced Practice Provider Johanna Baldassari, MSN, RN, FNP-BC, presented Lara with her award. "This is actually the second time Jess has been nominated for the APP in Excellence Award," she says. "Her expertise, professionalism and commitment are well known among her colleagues. I am thrilled she was selected this year and it was an honor to present the award alongside our Section Chief of Cardiology."
Upon receiving her award, Lara says she felt honored. "It is the dedication of my colleagues, APPs and attendings, that make BWFH a special place to work. Thank you to my amazing team for their support, and for sharing their expertise with myself and others," she says.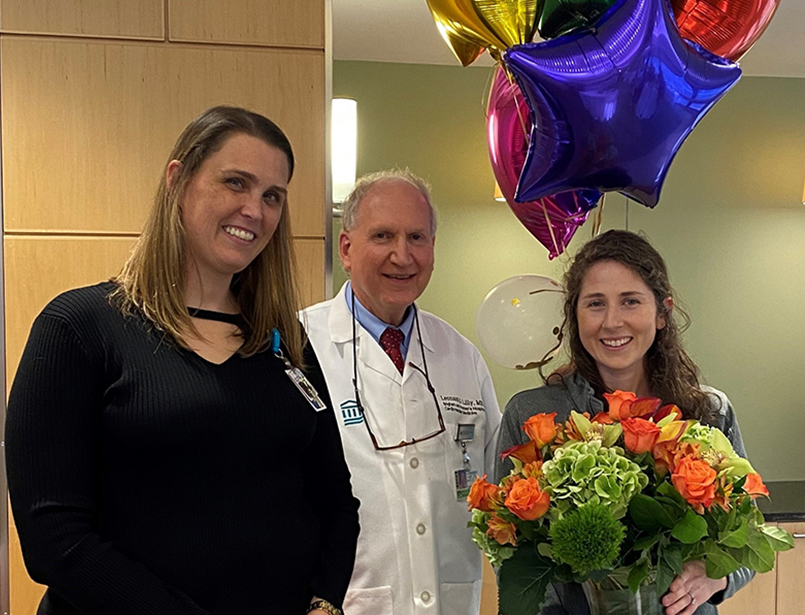 From left: Chief Advanced Practice Provider Johanna Baldassari, MSN, RN, FNP-BC, Section Chief of Cardiology Leonard Lilly, MD, and Chief Cardiology APP Jessica Lara, MSN, RN, FNP-BC
Published 10/3/23