The first indigenous person to graduate from Boston University School of Medicine, Ohiyesa, also known as Dr. Charles A. Eastman, was also the second indigenous person in the United States to become a physician. In addition, Ohiyesa was the great, great grandfather of Victor Lopez-Carmen, MPH, a medical student at Harvard University and co-founder of the Ohiyesa Premedical Program alongside Brigham and Women's emergency medicine provider Valerie Dobiesz, MD, MPH, FACEP.
Named in Ohiyesa's honor, the year-long program includes a three-week experiential summer program here in Boston that is designed to give premedical students the opportunity to gain clinical exposure by shadowing physicians in a variety of clinical settings and practice simulation based procedural skills, as well as participate in interactive small group panels and workshops. Students in the program complete a full 60 hours of shadowing at Brigham and Women's Hospital and in the Department of Psychiatry at Brigham and Women's Faulkner Hospital.
Upon learning of the program, Benjamin Yudkoff, MD, MA, Medical Director for both the Partial Hospital Program and Ketamine Infusion Program at BWFH, was among the first in his department to volunteer to host students from the program. "The Department of Psychiatry, in line with the broader mission of BWH/BWFH, is committed to training the next generation of providers," he says. "Sometimes training involves instilling enthusiasm in future providers, including pre-med students. We want to bring up the next generation of providers in accordance with our values: to promote our profession widely and broadly to a diverse up-and-coming generation. We want to be a leader in generating the myriad of voices that combine to produce the strongest and most comprehensive psychiatric perspective. We want our providers to be role models to the community we treat just as much as we want the community we treat to feel known and seen by our department and hospital. The Ohiyesa Premedical Program, in particular, allows us to extend our values as we partner with members of the indigenous community to see them, be seen by them and participate in the realization of their own aspirations. All of this can only improve the care patients receive."
Sheila Castillo, an enrolled member of the Manchester Band of Pomo Indians in Point Arena, California and a college freshman, who happens to have a particular interest in psychiatry, visited BWFH on her first day of shadowing. Dr. Yudkoff accompanied her as she sat in on both an electroconvulsive therapy treatment and a ketamine treatment. She also had the opportunity to observe a group therapy session, visit the Outpatient Infusion Clinic where esketamine is administered, tour 2 South, the hospital's inpatient behavioral health unit, and meet with BWFH President David McCready to discuss the administrative aspects of healthcare. "I am truly grateful for the amazing opportunity to work with Dr. Yudkoff as a student interested in pursuing psychiatry," she says. "I was able to grasp the true nature of the social aspects when working in the medical field as a way to make impactful changes in people's lives. I hope to take the teaching of the incredible staff working in the hospital with me, so that I may bring change in indigenous communities where mental health resources are scarce."
For Dr. Yudkoff, the opportunity to meet students from the Ohiyesa Premedical Program was equally impactful. "It is impossible not to reflect on one's own journey when meeting future healthcare providers. Seeing their open perspective, their idealism and their promise is personally invigorating," he says. "Meeting these future providers and providing mentorship also gives me an opportunity to give back in accordance with how so many have been generous and advising to me. It creates a great continued narrative of being taught and teaching. It's also amazing how much these future healthcare providers have to teach, themselves. Meeting these future healthcare providers is personally refreshing, instills in me a great sense of hope and also gives me pause to appreciate how much I get to be part of a great evolving process."
The Ohiyesa Premedical Program aims to help its participants find their path as they enroll in medical school and, ultimately, raise up the next generation of caregivers in order that they may bring much-needed medical expertise back to their communities. This is particularly important given the significant health disparities facing Indigenous Nations due to generations of systemic oppression.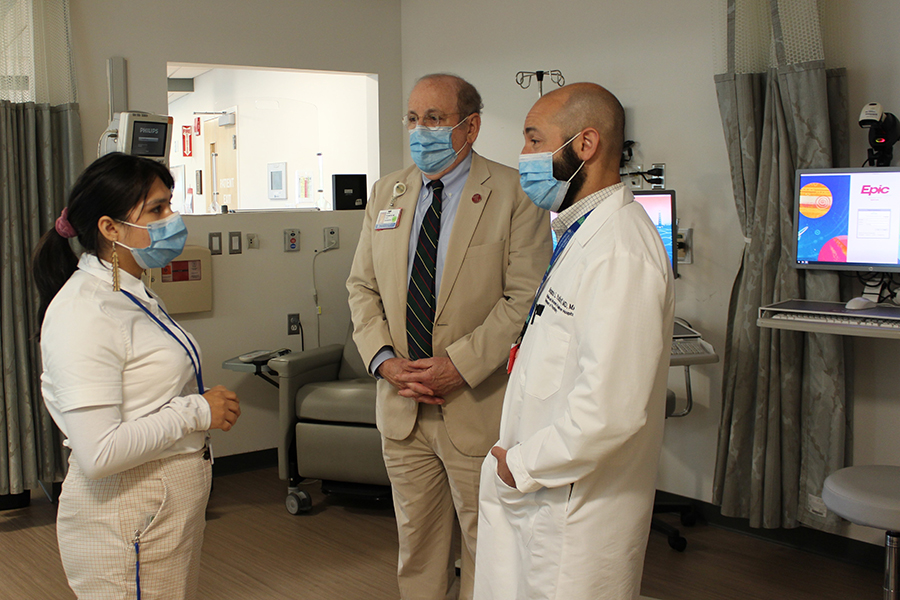 Dr. Yudkoff (far right) and John Fromson, MD, Vice Chair for Community Psychiatry at BWH (center), explain the process of esketamine infusion to Sheila Castillo in the Outpatient Infusion Clinic at BWFH
Published 7/26/22