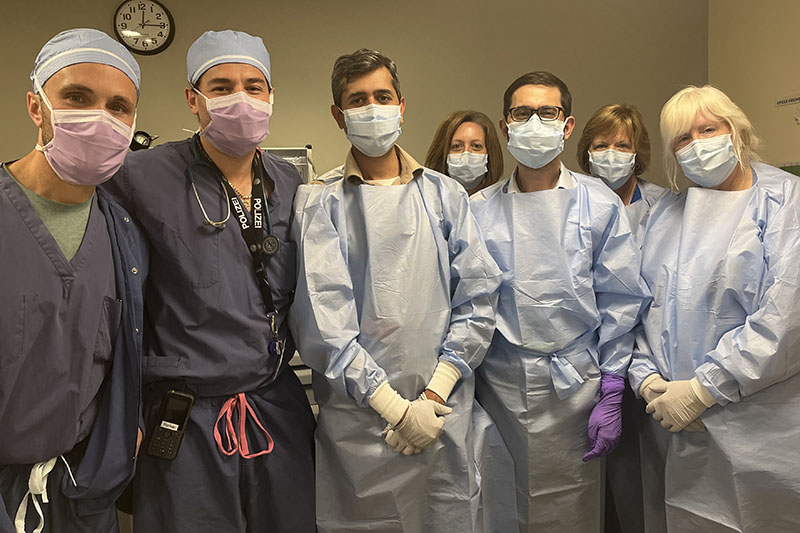 The multidisciplinary team that performed the first EBUS procedure at BWFH; From left: nurse anesthetist Michael McSweeney, MS, RN, CRNA, anesthesiologist Roman Portnoy, MD, pulmonologist and ICU Medical Director Hassan Sajjad, MD, respiratory therapist Nancy Rec, RRT, BWH Interventional Pulmonology Medical Director Majid Shafiq, MD MPH, and nurses Helen Driscoll, MSN, RN, CGRN, and Kathy Glennon, RN
In the past, patients on Brigham and Women's Faulkner Hospital's inpatient units with enlarged lymph nodes in their chests were transferred to Brigham and Women's Hospital for a specialized procedure known as endobronchial ultrasound (EBUS). Now, EBUS is available onsite in the Gregory Endoscopy Centre at BWFH, meaning patients can get the level of care they need, delivered safely in Jamaica Plain.
"We often see patients both on our inpatient units and in our pulmonology clinics with enlarged lymph nodes and we don't know if it's from inflammation, infection, malignancy or something else," says Pulmonologist and ICU Medical Director Hassan Sajjad, MD, who is the first proceduralist to perform EBUS at BWFH. "Now we can keep our inpatients here on our campus for this simple and safe procedure. And for our outpatients, they can be in and out of the hospital on the same day."
According to Dr. Sajjad, EBUS is best described as an add-on to traditional bronchoscopy, which has long been offered here at BWFH. "It's a minimally invasive way to sample pathologically enlarged lymph nodes in the chest," he explains.
For patients, in addition to the ease of access experienced here at BWFH, there is peace of mind knowing the procedure is far less invasive than surgical resection of enlarged lymph nodes. In addition, the team at BWFH is highly trained to perform the procedure using the state-of-the-art technology available in the Gregory Endoscopy Centre. "Together with our excellent nursing team, skilled respiratory therapists and world-class anesthesiologists, I can retrieve samples from the lymph nodes in the lungs quickly and easily—and most importantly, safely," says Dr. Sajjad.
"This success is a story of excellent interdisciplinary collaboration involving many hardworking individuals ranging from administrative and nursing leadership for their indispensable support to the pathologists for their skillful handling of diagnostic specimens," says Majid Shafiq, MD MPH, Medical Director of Interventional Pulmonology at BWH, who helped bring this service to BWFH and joined Dr. Sajjad to perform the first case. "I hope to see many patients benefit from this in the coming years."
Chief Medical Officer and Vice President of Medical Affairs Scott Schissel, MD, PhD, who also happens to be a pulmonologist, is thrilled BWFH can now offer our patients this important procedure. "We're currently building a new wing of the hospital that will include 78 new inpatient beds," he says. "It's wonderful to know that none of those patients will have to be transferred to BWH for EBUS."
Published 5/17/23