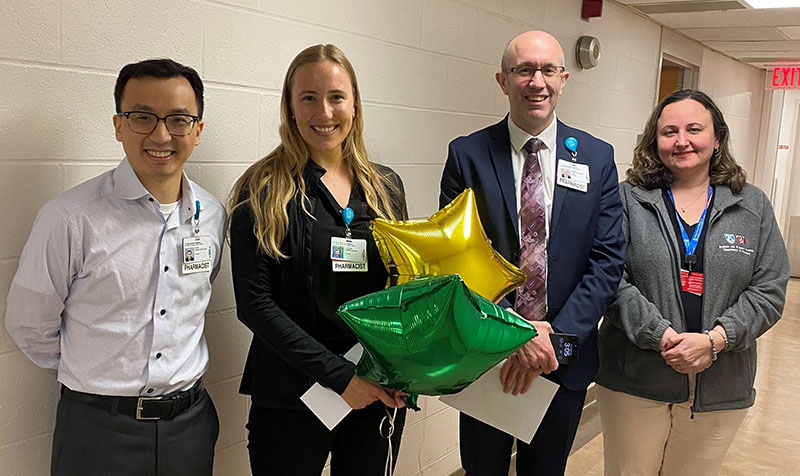 Clinical Pharmacy Specialist Kristina Milewski (center left) with the Pharmacy leadership team
Brigham and Women's Faulkner Hospital's I CARE Award recognizes staff members from all areas of the hospital who go above and beyond their regular job responsibilities to make BWFH a great place to work and receive care. Clinical Pharmacy Specialist Kristina Milewski was a recent recipient of an I CARE Award.
Milewski was nominated for her I CARE Award by Associate Chief of Medicine Erin O'Fallon, MD. In her nomination letter, Dr. O'Fallon wrote:
I contacted Kristina with questions about medication management for a patient on our inpatient service. Kristina was not only knowledgeable about the topic of concern, but she also spent time and attention seeking additional information, reviewing past medical records and a history of events that were incredibly helpful to updating a treatment plan for this patient. Her efforts were truly beneficial for the patient and incredibly helpful for the clinical team.
Do you know a BWFH employee who has gone above and beyond to demonstrate BWFH's I CARE Standards? To nominate a fellow colleague for an I CARE Award, please visit our employee intranet, BWFH - Vitals. A team of colleagues will personally recognize the employee by presenting them with balloons, a thank you card and a gift certificate redeemable in the cafeteria or Atrium Café.
Published 7/14/23