For many elderly community members, remaining independent at home is a top priority. But for many, things they oftentimes cannot afford to fix exist in and around their homes that present trip hazards. A trip and fall can easily lead to a hospital stay or a move to a long-term care facility. Through a partnership with ESAC Boston, Brigham and Women's Faulkner Hospital is focused on finding creative ways to help the elderly living in our surrounding communities safely stay in their homes and prevent that visit to the hospital.
"As part of our ongoing commitment to our community, BWFH recently awarded ESAC Boston with a grant," says Community Health and Wellness Director Tracy Sylven. "Those funds were immediately put to use to aid seniors living in Hyde Park, West Roxbury, Jamaica Plain and Roslindale."
Through their unique home repair program, ESAC partners with local contractors to assess homes, purchase equipment and fixtures and provide the labor to make repairs that aid in preventing falls.
"With the grant money from BWFH, we were able to install 40 grab bars in bathrooms. In addition, 21 homeowners received new railings inside or outside their home, 22 homeowners had steps or stairs repaired, three homeowners had repairs to landings or walkways and three homeowners had tall toilets installed," says ESAC Boston Executive Director Peg Drisko, PhD. "The impact is huge. These community members can now stay in their homes safely. And, most importantly, they can maintain their sense of independence."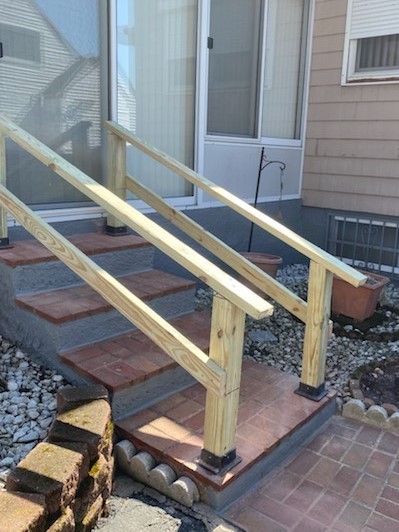 A new railing installed at a community member's home
About ESAC
Founded in 1965, ESAC is a community-based, nonprofit, multi-service agency that strives to improve the quality of life for residents of Boston and eastern Massachusetts. Focusing on children and the elderly through innovative programs in home ownership, education and community service, ESAC helps identify problems that threaten individuals and communities, and works in partnership with other agencies to find creative, long-lasting solutions. By sending forth ripples of hope, ESAC serves as a catalyst for strengthening neighborhoods and building communities.
Published 9/29/22