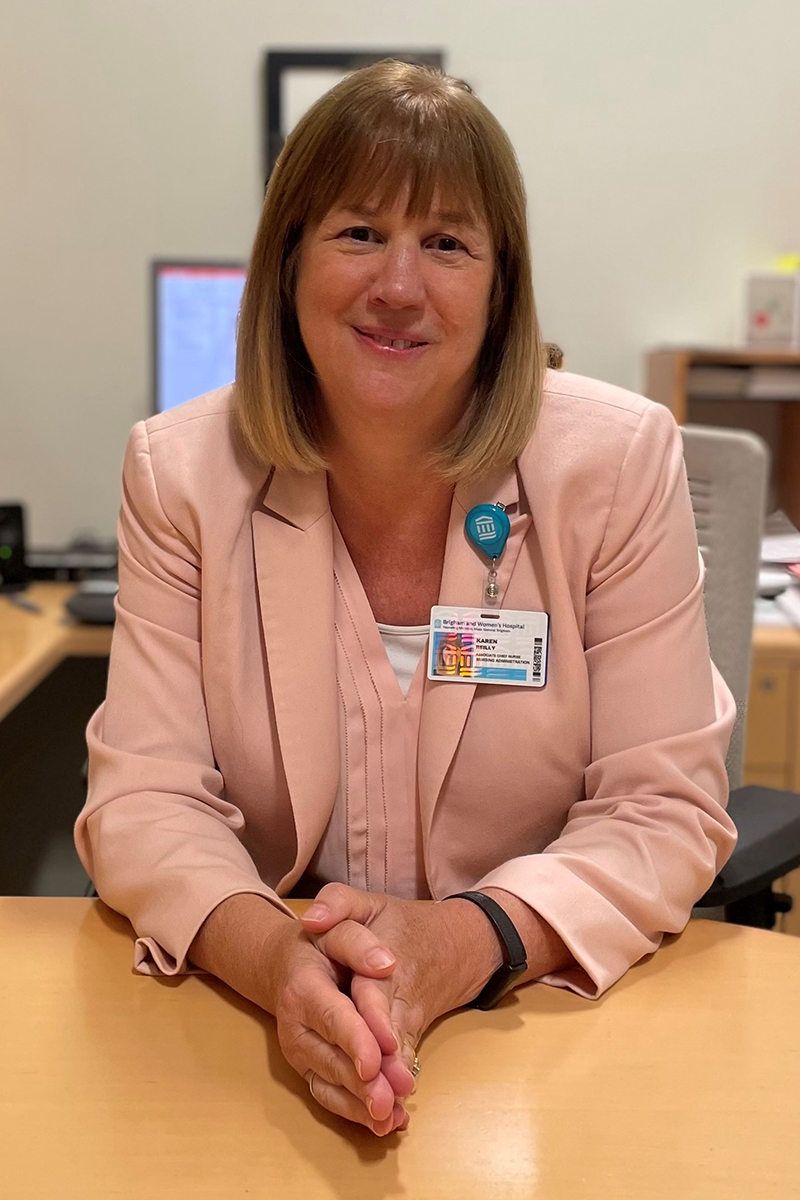 Karen Reilly, DNP, MBA, RN, NEA-BC, has been named the next Chief Nursing Officer and Vice President of Patient Care Services at Brigham and Women's Faulkner Hospital, effective October 1, 2023.

Reilly has spent the last 30 years working in clinical nursing and leadership roles at Brigham and Women's Hospital. She currently serves as the Associate Chief Nurse for Critical Care, Cardiovascular and Surgical Services, overseeing more than 100 critical care beds and 340 intermediate care beds, as well as more than 1,400 FTEs. She also serves as a leader of the inpatient operations team.
During her time at the Brigham, she has made immense contributions to the Department of Nursing and been part of many efforts to expand and improve patient care. She played an integral leadership role in the planning process and opening of the Shapiro Cardiovascular Center, as well as the expansion of the Neuro and Thoracic services, the ECMO program, Trauma Care and the mechanical support program—experience that will no doubt prove to be invaluable as we open 78 new inpatient beds here at BWFH.
Reilly has also served as a Magnet Appraiser for the last four years, bringing experience and insight into BWFH's journey towards our own Magnet Redesignation! She visited in preparation for our last Magnet site visit and was impressed by the work being done here. Having begun her career in a community hospital, she has expressed how much she loves the community hospital feel and is especially happy to have found it within the Brigham family.
Reilly is a respected presenter, national publisher and decorated researcher, with a focus on the effect of reflective practice on the nursing practice environment. She was elected to the Board of Directors for the Organization of Nursing Leaders, serving as MA State Representative. Karen earned her nursing degree from Saint Anselm College, her MBA from UMass Boston and her doctorate in nursing from Simmons College.
Published 8/15/23