Much like an airplane's black box, which captures flight data to help airlines learn from past experiences, new technology now being piloted in two operating rooms at Brigham and Women's Faulkner Hospital is designed to capture key data during surgery to help the medical team improve quality and efficiency.
"It's our mission to provide high-quality, safe surgical care to all of our patients," says Chief of Surgery Douglas Smink, MD, MPH. "In the operating room, patients are under anesthesia, and they put all of their trust in their surgical team to perform their procedure as safely as possible. The surgical team works together as a unit to do this. The OR Black Box is designed to help us monitor team performance so that we can learn how to make our ORs even safer."
The goal is to help the operating team streamline workflows and improve patient safety. "We know that our staff is committed to patient safety. This gives us one more tool to engage our whole team to advance patient safety," says OR Nurse Director Jacky Glenn, MBA, BSN, RN. "OR Black Box removes the identities of both patients and staff, only retaining information that is clinically relevant in order to generate data that could be used to make process improvements. This is an opportunity to bring new technology into the operating room so we can continue to learn and improve."
Dr. Smink agrees. "So far, just a handful of hospitals across the country have piloted this new technology—BWFH is the first in Massachusetts. It's an exciting opportunity to further improve patient safety," he says.
How does OR Black Box technology work?
OR Black Box technology captures audio, video, patient physiology, environmental factors and device feeds. The data collected is then electronically relayed to Surgical Safety Technologies Inc., the company that created the technology. Surgical Safety Technologies Inc. then analyzes the data and provides a report back to BWFH that includes assessments of risk, surgical team performance, surgical technology and efficiency, as well as analysis of safety threats and resilience.
"We hope that by gathering and tracking these data, we can design quality improvement projects tailored to our operating rooms' needs," explains Dr. Smink. "The data will be used to help our teams better care for our patients."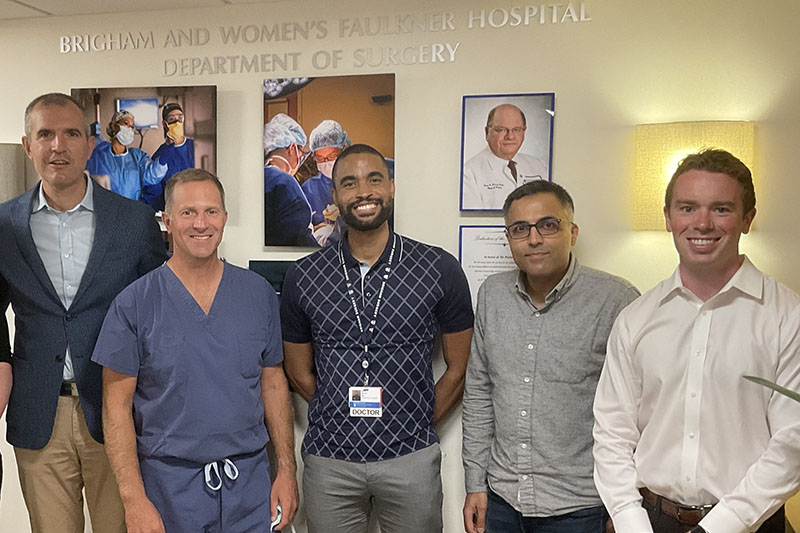 Members of the Surgical Safety Technologies Inc. team visit BWFH; from left: Founder of Surgical Safety Technologies Inc. Teodor Grantcharov, MD, Chief of Surgery Douglas Smink, MD, MPH, Surgical Resident and Safe Surgery/Safe Systems Fellow for Ariadne Labs Max Riley, MD, Chief Technology Officer for Surgical Safety Technologies Inc. Amar Chaudhry and Corporate Development Officer for Surgical Safety Technologies Inc. John Timony
Published 11/17/23