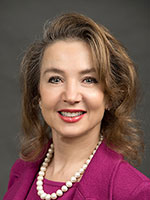 Caroline Apovian, MD, FTOS, Co-Director of the Center for Weight Management and Wellness at Brigham and Women's Faulkner Hospital, was selected for The Obesity Society's 2023 George A. Bray Founders Award. This award recognizes an individual for significant contributions that advance the scientific or clinical basis for understanding or treating obesity and for extensive involvement with The Obesity Society.
The award, named after The Obesity Society founder George A. Bray, MD, was presented to Dr. Apovian during the awards ceremony of the society's annual scientific meeting, Obesity Week, in Dallas on October 16.
For over 30 years, Dr. Apovian has been at the forefront of the obesity and nutrition fields. One of the world's premier weight management experts, she has distinguished herself as a leading researcher, healthcare provider, teacher and New York Times bestselling author. Her research interests are weight change and its effects on adipose tissue metabolism, obesity and cardiovascular disease in the bariatric surgery populations and disparities in the treatment of obesity in underserved populations.
The Obesity Society is a leading professional society focused on obesity science, treatment and prevention. Their goal is to advocate and promote the highest quality in research, clinical care, education and policy development to address the needs of people living with obesity.
Published 10/23/23