From pencils and pens to crayons and glue sticks to tape and scissors, students at JP Manning Elementary School are well equipped for the 2023–2024 school year thanks to the Brigham and Women's Faulkner Hospital community.
"We have a long-standing relationship with the JP Manning Elementary School," says BWFH's Community Health and Wellness Program Manager and Young Professionals Committee Co-Chair Katie Plante. "There we help tackle food insecurity and teach the kids about healthy eating. But sometimes it's the simplest of things, like new school supplies, that make the kids the most happy."
During the annual School Supply Drive, which is coordinated by the Young Professionals Committee, BWFH staff are always generous with their donations and this year was no different.
"I'm always so impressed with how generous our staff is," says Plante. "The students and the staff at the JP Manning Elementary School were so excited to receive this year's donations. Thanks to the BWFH community, they have the supplies they need to succeed in the year ahead."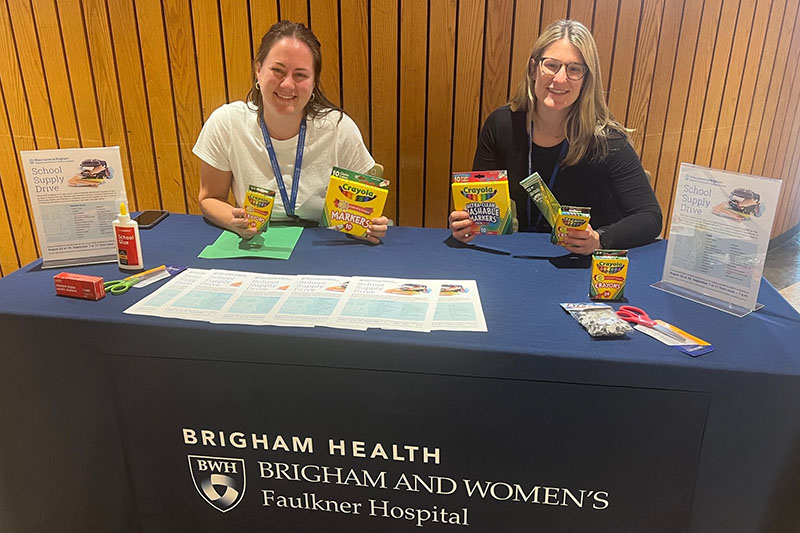 Community Health and Wellness Program Manager and Young Professionals Committee Co-Chair Katie Plante and Senior Quality Analyst and Young Professionals Committee member Jenna Ambrosi, RN, collect school supplies outside the cafeteria at BWFH
Plante presents the donated supplies to JP Manning Elementary School Secretary Lisa Gannon Serrano
Published 9/25/23