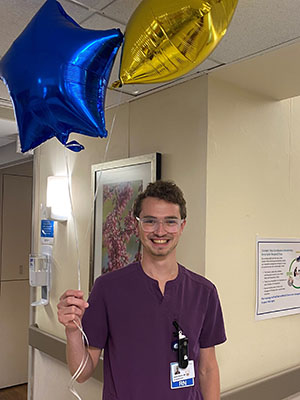 Brigham and Women's Faulkner Hospital's I CARE Award recognizes staff members from all areas of the hospital who go above and beyond their regular job responsibilities to make BWFH a great place to work and receive care. 6 North staff nurse James Brawn was a recent recipient of an I CARE Award.
Brawn was nominated for his I CARE Award by 6 North Nurse Director Suzelle Saint-Eloi, MS, RN. In her nomination letter, Saint-Eloi wrote:
James Brawn provides outstanding care to his patients. He consistently goes above and beyond to provide extra attention to his patients. James is empathetic, always maintaining calmness and a supportive and professional approach. James recently cared for a patient with dementia and impulsivity, James was gentle, patient and cared for this patient as if this was his only assignment. Throughout his shift, James spent time with the patient, providing re-direction, sitting with and walking with the patient. This helped the patient remain calm and cooperative for the shift. While this was one example how James treats his patients, James consistently receives praise and accolades from patients recognizing his compassionate approach to care. One patient commented, "I would definitely like to praise a young male RN named James. He not only treated me with respect, especially giving me a shower, but he was very nurturing besides. He did little things, like warm a sheet to put on my shoulders when I said I was cold. He also checked on me more often than the others and I appreciated that. James on 6 North was great!" We would like to recognize and thank James for providing exceptional care to the patients and making a difference.
Do you know a BWFH employee who has gone above and beyond to demonstrate BWFH's I CARE Standards? To nominate a fellow colleague for an I CARE Award, please visit our employee intranet (Mass General Brigham login required), BWFH - Vitals. A team of colleagues will personally recognize the employee by presenting them with balloons, a thank you card and a gift certificate redeemable in the cafeteria or Atrium Café.
Published 6/28/23