Brigham and Women's Faulkner Hospital recently completed a four-day visit from the Joint Commission, the independent, not-for-profit organization that accredits and certifies healthcare organizations and programs in the United States. Over the course of their visit, a team of five surveyors inspected and toured nearly every area of the hospital, spoke to dozens of staff members and reviewed numerous patient charts and employee files.
"Overall, this was an extremely positive survey. Using the Joint Commissions SAFER Matrix, BWFH had only findings that were Low and Limited and Moderate and Limited compared to our previous survey that had more serious findings," says Director of Infection Control, Clinical Compliance and Patient Safety Andrea Shellman, MHSA, CPPS. "Our surveyors were also impressed with how engaged and proud our staff are in their work, and their ability to speak to the processes in which they are involved."
There were findings that will need to be addressed with some corrective action planning within the next 60 days. Some examples include:
Staff used relocatable power strips that are not approved by the National Fire Protection Association (NFPA) and were used inappropriately in patient care areas
Surveyors found unsecured sharps in a patient room
A fire door, used to limit the spread of fire, was found propped open with equipment
A couple of patients did not have a patient specific plan of care documented
BWFH's Senior Leadership Team has identified staff members who will review and follow up with each finding. Front line staff can expect to see a number of updates to policies and procedures in the coming weeks, education on acceptable practices and enhanced reviews of several items related to our physical building, many of which were corrected while the survey team was on site.
"I could not be more proud of our staff and our organization as a whole," says Chief Medical Officer and Vice President of Medical Affairs Scott Schissel, MD, PhD. "Throughout the four days, I heard the surveyors singing our praises. Notably, they remarked how clean the building, hallways and patient rooms are and how enthusiastic and prepared our staff at all levels were in answering questions. Staff in the Emergency Department, Pharmacy, Endoscopy and Interventional Radiology/Interventional Nephrology should be especially proud considering the surveyors noted several outstanding practices that could be used as national standards. Additionally, our Infection Control Program, ICU and Partial Hospitalization Program had no findings."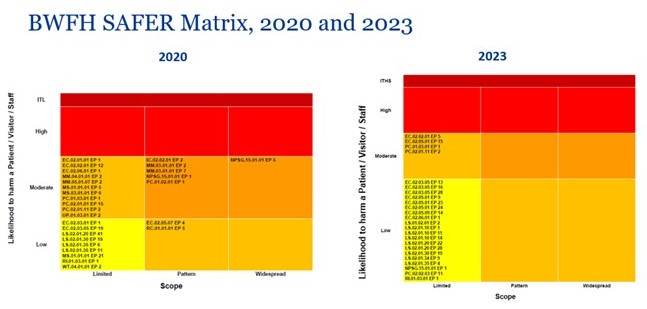 All Requirements for Improvement (RFIs) are plotted on the SAFER matrix according to the likelihood the issue could cause harm to patient(s), staff and/or visitor(s), and the scope at which the RFI is observed. Combined, these characteristics identify a risk level for each RFI. As the risk level of an RFI increases, the placement of the TJC standard and Element of Performance moves from the bottom left corner to the upper right.